Promising Treatment For Concussion Symptoms
Symptoms of concussion such as confusion, blurred vision, headache, trouble focusing and dizziness can be debilitating.  Lighthouse Physical Therapy was recently featured in an article on Seacoastonline.com discussing our success with patients suffering from these symptoms. This article highlights our patient, Drew Clinch's story.
Promising treatment for concussion symptoms
Local practice deploys integrative manual therapy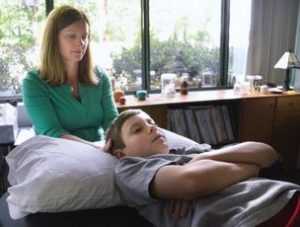 By Suzanne Laurent
news@seacoastonline.com
June 02, 2013 2:00 AM
PORTSMOUTH — Drew Clinch is a typically active 8-year-old who was playing basketball with his family on Easter Sunday when he collided with his father and fell backwards onto the hot top, hitting the back of his head.
"We did the usual things, like ice and making sure he didn't fall asleep that afternoon," said his mother, Andrea Clinch of Strafford.
But the second-grader showed symptoms of dizziness for three weeks after the fall, experienced headaches and had trouble focusing in school. He was also getting upset at things that usually didn't upset him.
"His school nurse suggested seeing his medical doctor, an eye doctor and a counselor," his mom said.
A CAT scan was normal and Clinch was told her son had post-concussion syndrome.
She brought Drew to a counselor at Eldridge Park in Portsmouth, and happened on Lighthouse Physical Therapy in the same building. Clinch remembered hearing about Lighthouse from a friend who worked there.
"I thought we'd give it a try," she said.
Therapists at Lighthouse Physical Therapy utilize a method called integrative manual therapy, or IMT, as their central treatment tool. IMT is a very hands-on method that uses specialized soft tissue techniques and gentle joint mobilizations.
Lighthouse owner David Burchuk evaluated Drew. Burchuk had recently attended a weekend course on post-concussion treatment at the Institute of Integrative Manual Therapy in Connecticut. Although the staff at Lighthouse is trained in cranial techniques, this course was specific to concussion treatment.
"Traditionally, patients with concussions are told to rest," Burchuk said. "This is good advice in the beginning, but practitioners were questioning why it was taking so long to heal."
When there is a trauma to the head and neck, the blood vessels constrict. Burchuk said by releasing the soft tissue around the blood vessels, it increases the blood flow to the head and neck, which can begin the healing process.
Clinch said her son's symptoms began subsiding after the first treatment. Because of the injury, Drew was also stiffening his neck to protect his head, which is a normal reflex.
"He had very little normal neck movement and weakness," Burchuk said.
During an IMT session, the therapist is one-on-one with the patient for the entire visit, which is typically for an hour. Drew would lay quietly on an examination table, with his mother in the room, and the therapist gently released the soft tissues around his neck and even the lower back which had become off-balance and stiff as a result of the injury.
After his third visit, Drew's mom said he still had one episode of dizziness, so the weekly therapy will continue until his symptoms subside completely. Sometimes patients will stop treatment and then come on an as needed basis.
While it is a gentle approach that looks like the laying of hands done in Reiki, it is very different.
"Reiki is about energy," Burchuk said. "This methods gently works the soft tissue around the structures."
Burchuk said his staff will also talk with patients about nutrition.
"A lot of people don't get enough good fats, and they need a proper balance of protein and carbohydrates to aid in healing," he said.
Concussions often go unreported Burchuk said.
"Fifty-one percent of high school football players won't tell the coach if they've hit their head," he said.
Initial signs and symptoms of concussion include confusion, blurred vision, headache, amnesia, trouble focusing or paying attention, dizziness, loss of balance, clumsiness, nausea and vomiting. These can last for a day or so.
If the symptoms go unchecked, they can last from days into weeks. The patient may further experience headaches, light-headedness, poor concentration, trouble with memory, fatigue, irritability, sensitivity to loud sounds and/or bright lights, sleep problems, blurred vision, anxiety and/or depression.
"One of the greatest incidence of concussion is seen in cycling when speed is involved and the rider flies over the handlebars," Burchuk said.
IMT was developed 30 years ago by Dr. Sharon Giammatteo as a different approach to health care that addresses the needs of complex patients. IMT practitioners identify and address the underlying causes of dysfunction using a comprehensive and holistic approach.
Burchuk believes Lighthouse is the only outpatient therapy facility on the seacoast that uses IMT as a modality. It also has a satellite location in Dover.
For more information on Lighthouse Physical Therapy and Integrative Manual Therapy, visit www.lighthousept.com/index.html.